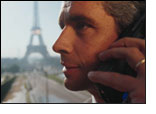 Innovative Services for Telecom Operators
InSerTO offers value added services that give telecom operators the opportunity to generate revenues on high Return On Investment projects.
InSerTO is a major player in the value added services market for telecom operators.
InSerTO has developed a unique multiservices platform that give the operator a solution for more flexibility (few months for new service delivery), growth easiness (from few E1s to hundreds of E1s) and reliability (platform already in service in major operator networks).
InSerTO offers a large catalogue of services (RingBack Tone, Roaming, VoiceMail filtering, Missed Call Alert, SMSC Optimizer, mobile e-mail, voice SMS, 3G Video kiosk, 3G Video Blog, 3G Call continuity, SCP, Intelligent Peripheral…) that can be easily integrated in the operator network and can be customized to match each operator specific requirements.